We Can Help put your cause - ON ITS FEET
through one of our many programs
Offer Our unique items at various benefits you are holding
OR
sponsored by others
and split the amount you take in with them
(Benefit Walks, Runs ~ Car Washes -- Any Event ) held to gets donations
Simply contact the sponsors of other Benefits
and ask if you can set a kiosk and solicit donations -
Tell them you will split the money you collect with them
50/50 after you take out expenses
I have done this and raised money for other charities
and have some tips on setting up a kiosk
The events were not my own
But I split the money I collected with the event sponsors
you just show up / set up / take the donations / give the donator a FootEze to keep them in "good standing"
and split the profits with the cause holding the event
You'll be on "solid footing" and EVERYONE WINS
~~~~~~~~~~~
Contact me for quantity discounts
You Pay just $4.99 each with free shipping
YOU CAN ASK for any donation amout over that and give the donator a Foot Eze
If you are interested contact us for our Deep Discount prices
You'll be amazed at what your price will be
****
If you just stopped here to see our offer
you'll get FREE Shipping and we donate $5.00 to any cause you designate with qualifying orders
More ways we have used these in other venues to help others:
we have sold the Foot Eze
To those wishing to show Support for the Troops
Send these to any soldiers in care packages
Give them to working women and Moms to be for baby shower gifts
Offer them to seniors citizens you know
Take some to old age homes give them away
Handicapped People will also benefit from this Hands FREE Device
Any one who has ever said
My feet are Killing me"
OR
"I'm Stressed Out"
will love using this innovation
You get A FREE BONUS with each Foot Eze
a reflexology foot massage schematic is included with each unit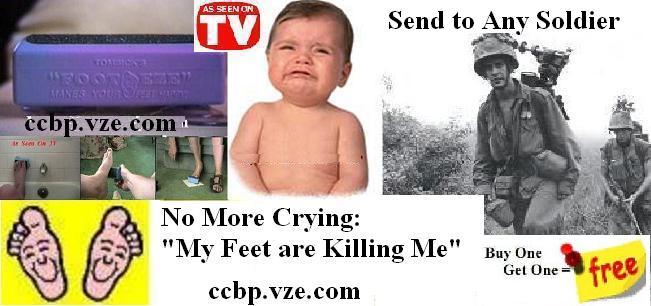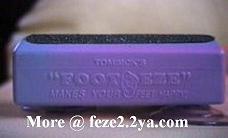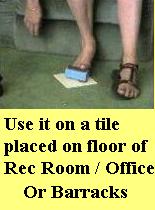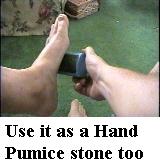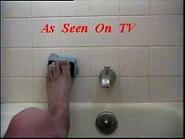 Place it on wall at foot of tub
~
Demo Vid for the Hands Free Foot Care Device
~ The Foot Eze ~
What this Device Does
Ignore the price in the video
You pay JUST $4.99
and we donate $5.00 from each Order Over $49.00 to
ANY cause you designate


~ We're Happy Feet ~
* We've been using Foot Eze for over 15 years *
The Foot-Eze is better than anything seen on TV lately Because it is
an Easier to use NO Bending / No Strecthing / Hands Free Personal Care Device:
And
No Metal Grate to cause irritation
The abrasive Pad is made from Safe Silica Graphite
The Hands Free FootEze
* Eliminates the need for Bending & Stretching *
Removes odor causing dead skin & unsightly painful callouses
Stimulates Circulation to feet and legs
Invigorates Sore Tired Achy Feet
Exfoliates Dry Itchy skin
Leaves Feet Fresh - Attractive and Tingling
* Relaxes muscles & relieves STRESS and tension *
the user feels better ALL OVER !!!
through the fundemantals of Reflexology Foot Massage
Use it while working or relaxing
The Foot EZE Mounts with suction cups to any smooth surface
Any Tile floor - Barracks, Shower
Office ~ Rec Room
Wall @ foot of tub
OR
use it as a Hand held held pumice stone / foot massager
Remember the premise and basis of Reflexology Foot Massage is =
"If YOUR Feet Feel Good ~ YOU Feel Good ALL OVER !!!
This unique innovation may provide a more stress free life for the user
Podiatrist Approved
NOT RECOMMENDED FOR DIABETICS
$$$$$$$$$$$$$$$$$$$$$$
Return the items within 7 days of purchase and get Money Back
Minus restocking fee
of $2.99 per item in order
Donation will not be sent until 7 days is up
~~~~~

Bill's Interview with JB Cloud KBCY
*************
The Foot Eze was packaged by Adult Handicapped Workshops
By participating in this offer and buying these
You provided jobs for them
~~~~~~~~~~~~~
You must include the name of the cause you want
your $5.00 donation to go to
In the text box provided during check out
Or we will choose the cause
Free BONUS
Each purchaser gets a Reflexology Foot Schematic