I have a founded a more important cause and
am spearheading the effort
But need your help and ask that you notify EVERYONE you can think of of this cause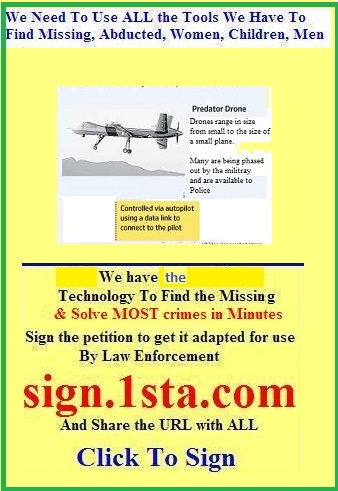 DO Soemthing ---
Sign The Online Petitions to GET NASA to help police find Abducted children Missing Women and Men
and solve other crimes
HERE
******
Now to the offer you came ere for
Free shipping and Money Back Guarantee
Great Two For One Gifts for any Mom to be
OR

Any one who has ever said
"My feet are Killing me"
"Oh my aching feet"
OR
"I'm Stressed Out"
They will love using this Hands Free innovation
FREE Bonus with Each Purchase
Buy One get one Free
PLUS a Free BONUS ( SEE Below )
Moms to be for baby shower gifts or shower party favors
Limited Time 2 FOR 1 Offer
order 1 you get 2 for $12.99
Order 6 you get 12 for $69.94 ~ That's less than $6.00 each
Give them to Working women
Offer them to seniors citiziens you know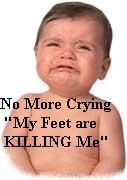 Also great to Support the Troops
Send these to any soldiers
How many times a day do you think a soldiers ( maleor female ) says "Oh My aching feet" !!! ?
Two for One
$12.99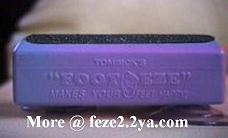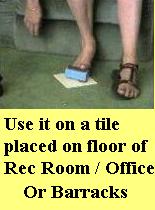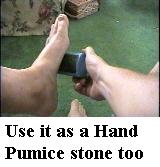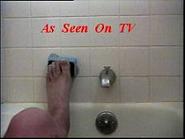 Place it on wall at foot of tub

~


Demo Vid for the Hands Free Foot Eze

What this Device Does


~ We're Happy Feet ~ We've been using Foot Eze for over 15 years ~
The Foot-Eze is better than anything seen on TV lately Because it is
an Easier to use NO Bending / No Strecthing / Hands Free Personal Care Device:
No Metal Grate to cause irritation
The abrasive Pad is made from Safe Silica Graphite
The FootEze
* Eliminates the need for Bending & Stretching *
Removes odor causing dead skin & unsightly painful callouses
Stimulates Circulation to feet and legs
Invigorates Sore Tired Achy Feet
Exfoliates Dry Itchy skin
Leaves Feet Fresh - Attractive and Tingling
* Relaxes muscles & relieves STRESS and tension *
the user feels better ALL OVER !!!
through the fundemantals of Reflexology Foot Massage
Use it while working or relaxing
The Foot EZE Mounts with suction cups to any smooth surface
Any Tile floor - Barracks, Shower
Office ~ Rec Room
Wall @ foot of tub
OR
use it as a Hand held held pumice stone / foot massager
Remember the premise and basis of Reflexology Foot Massage is =
"If YOUR Feet Feel Good ~ YOU Feel Good ALL OVER !!!
This unique innovation may provide a more stress free life for the user
Podiatrist Approved
NOT RECOMMENDED FOR DIABETICS
The Foot Eze was packaged by Adult Handicapped Workshops
By participating in this offer and buying these
You provided jobs for them
~~~~~~~~~~~~~

Bill's Interview with JB Cloud KBCY
regarding his efforts to Help Others
***~~~***
*
&
Free Reflexology Foot Schematic with each purchase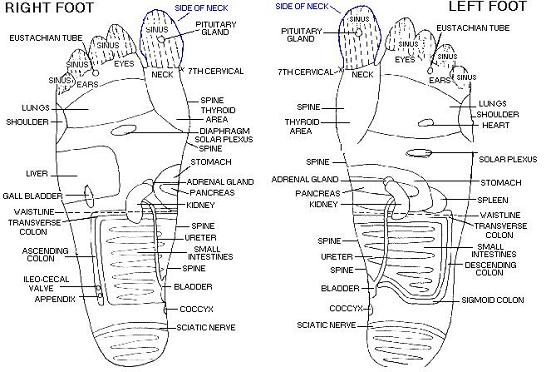 Use button below to order 6 and get 12
For $69.94 ~ That less than $6.00 each
Podiatrist Approved
Patent for sale Inquire



email me
HERE
$$$$$$$$$$$$$$$$$$$$$$
$$$$$$$$$$$$$$$$$$$$$$
Return the items within 14 days of purchase and get Money Back
Minus restocking fee
of $2.99 per order
*************
************
I know you have found everything on my pages to be on the level
This next offer is too
Even though it seems to be
"Too Good To Be True" - It IS TRUE
Can you afford to NOT Take the chance ?
You can pay unbelieveble low prices for gas, groceries and other purchases
This next offer too has a Veterans, Military Families and Wives Discount
as well as 65% off for everyone else
**********
~~~~~~~~~~
**********

Bill's Interview with JB Cloud KBCY
- Will M Tomsick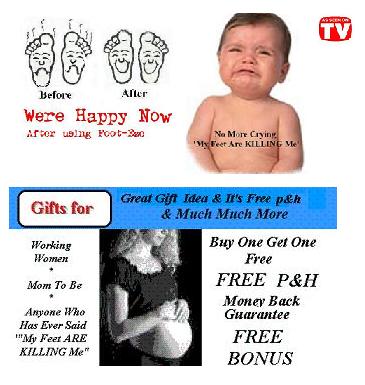 Please watch this video It is the TV Commercials which I ran for the Foot Eze
and Visit the site to help keep my pages on the Net.
It offers MY FOOT CARE INVENTION













free2u.funurl.com













- Will M Tomsk

support our troops and any soldiers male and female.

Send Care packages with free items free offers.

Moms to be, Pregnant women, seniors, sinior citizens who always complain - my feet are killing me.

Free stuff free offers foot care care packages for soldiers

calluses foot oder smelly feet sore tired achy feet soothes them releives pain and discomfort of feet working women moms to be makes a great baby shower gift pedicures do it yourself foot care

working women, male or female, any soldier, EXFOLIATES DEAD SKIN AND ELIMINATES THE NEED FOR BENDING WITH THIS HANDS FREE DEIVES for assissted living.

Removes calluses soothes achy tired sore feet for any soldiers male or female

podiatrist approved, makes ideal baby shower gifts

pARTY FAVORS FOR BABY SHOWERS tomsick bill cape coral florida Oh My Aching Feet - Help is on the Way>Oh My Aching Feet - Help is on the Way

funf2u2 pass